This year as we celebrate International Women's Day, we want to shine a spotlight on some of the many amazing women who are working to save orangutans throughout Borneo and Sumatra.
Across all the projects we manage and support, women work in every role, at every level of their organisations. They're breaking into traditional male roles, performing at the highest level of their field, and leading and developing new organisations that are changing the face of conservation.
Rescuing orangutans
Women play an important role with rescues in our two rescue alliances: the Sumatran Rescue Alliance (SRA) and the Bornean Orangutan Rescue Alliance (BORA). They help to rescue captive and at-risk or injured wild orangutans, and then provide them with comfort, food and medical care once they've been rescued from their terrible situations. Below you can see one of the women who helped rescue Asto and Asih from captivity in a private home.
Caring for orangutans
When orangutans come to our rescue centres, they need care, food, milk, comfort and of course teaching. Without their mothers, who have usually been killed by illegal wildlife traders, the vulnerable infants must learn from their orangutan carers. They teach them which foods are safe to eat, how to build a nest, and how to climb trees. Many orangutans like Bagus here, love to hitch a piggy back ride to Jungle School.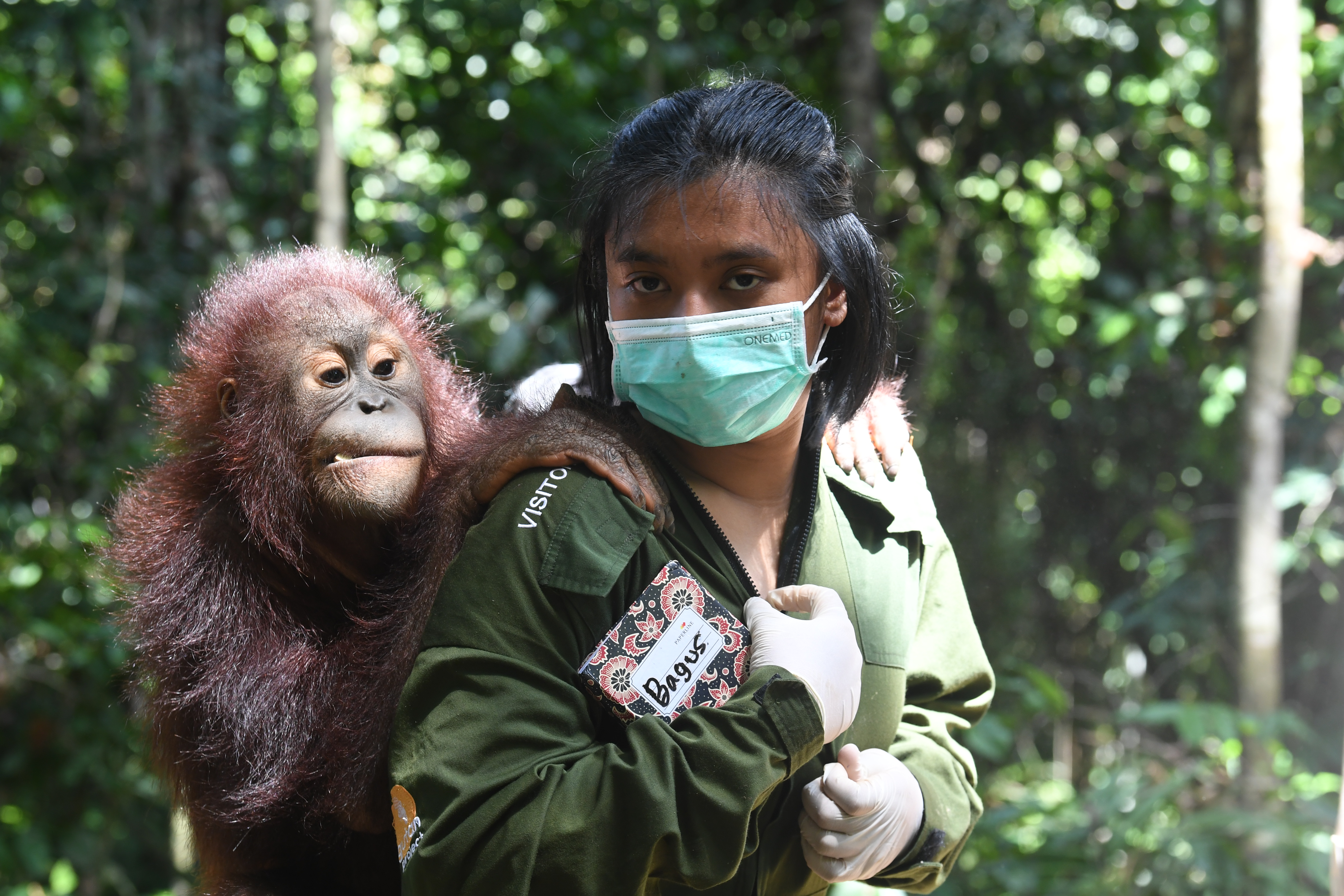 Veterinarians and vet nurses
The veterinarians at our rescue centres are vital to the long-term wellbeing of the orangutans at our care centres. They work at our medical clinics in the SRA and BORA centres, conducting regular tests and checks of the orangutans' health. They also provide urgent medical care when orangutans are rescued and many orangutans owe their survival to the wonderful female vets. Below is Andhani, one of the vets working with our partner FZS in the Bukit Tigapuluh Ecosystem.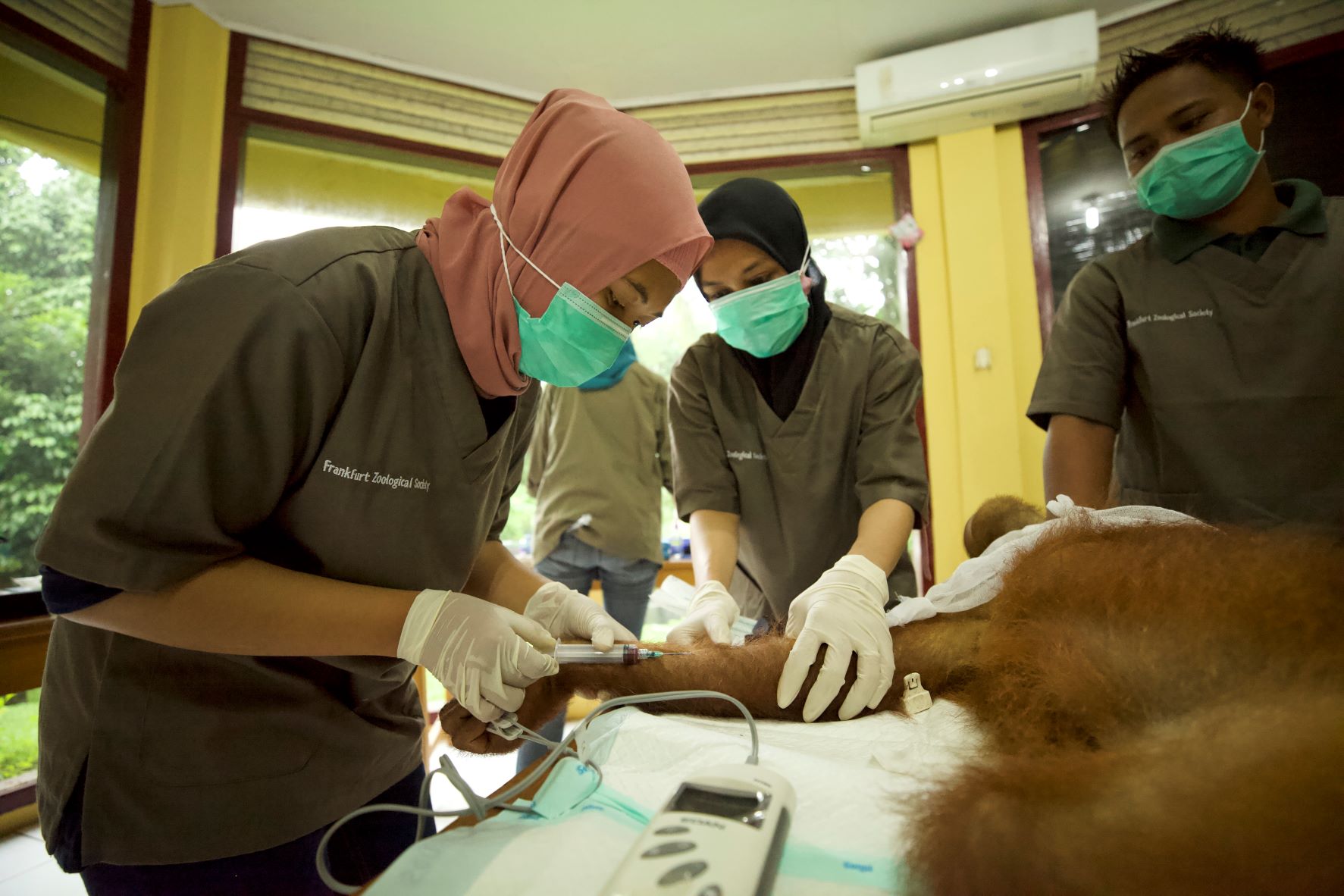 Communication officers and managers
Many women work in communication and management roles in our teams. They write text for social media, provide reports to us so we can share stories with donors, and they help us keep track on a regular basis of what's happening in Indonesia. Yuyun is the Communications Officer with our BORA partner the Centre for Orangutan Protection. She maintains the website and social media and takes many of the photos and videos we share on social media. She also collects data and stories that we then share with our supporters like you!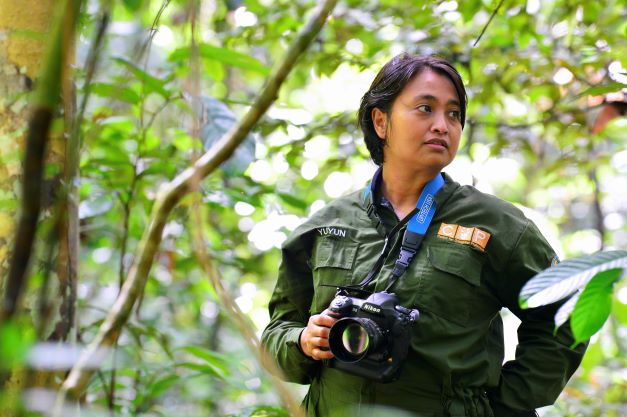 Replanting forests and caring for the environment
Women are at the forefront of forest protection, conservation and restoration. They work in difficult environments, often trekking for hours through mud on motorbikes or through the jungle on foot. We work with and support a number of inspiring, brave women who fight fires, collect seedlings for reforestation projects, care for and then replant the seedlings. They also work with and teach local communities about how to care for the forest and they teach and encourage environmentally friendly farming and gardening techniques. Below are two women with our partner Borneo Nature Foundation in a permaculture vegetable garden in Borneo.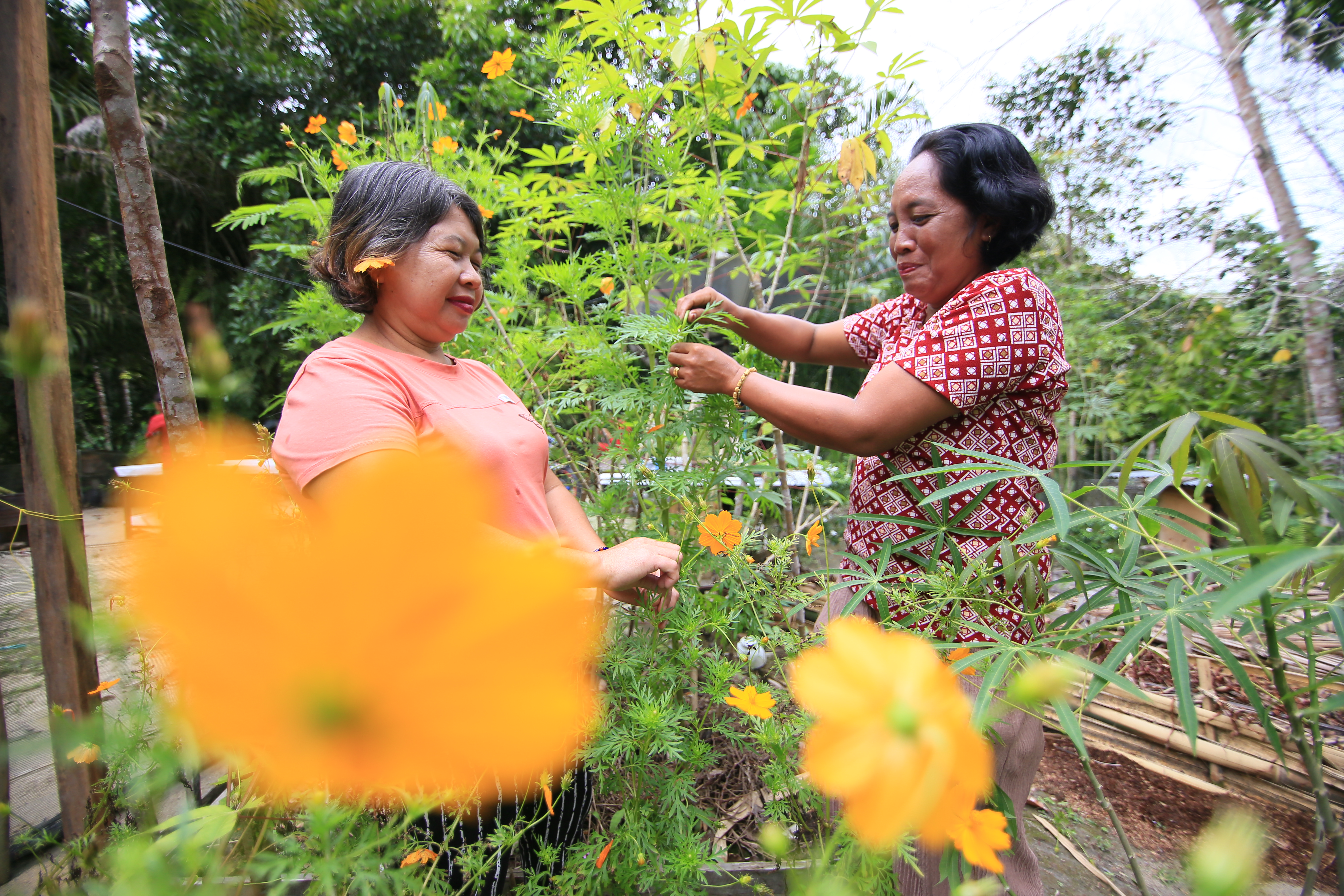 Protecting the forests
The Power of Mama are Borneo's first women ranger teams. Every year in Borneo during the dry season (April to October), huge areas of rainforest are threatened by wildfires, which can destroy thousands of hectares of jungle, kill and injure humans and wildlife, and generate massive carbon emissions. As the dry season approaches, the Power of Mama helps restore peatlands, protect wildlife including orangutans, empower local women, and increase education of women and children. Thanks to the implementing organisations of this project - Yayasan International Animal Rescue Indonesia (YIARI) and the Ministry of Environment and Forestry. Read about how you can help these brave women to fight fires in Borneo this dry season.