Happi is doing well at our BORA rescue centre in East Kalimantan. He is healthy and weighs 22kg.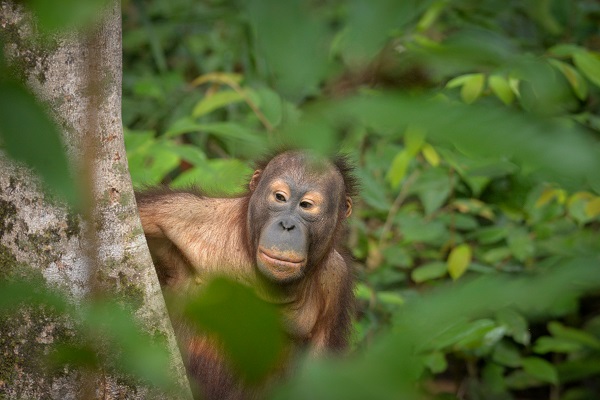 Happi peeking around a tree at Jungle School
Happi continued to show excellent forest skills during his time at Jungle School. He is confident and still very playful. He likes to explore and eats a wide variety of forest foods including fruits, leaves, bark, and termites. We love this video of Happi eating every last corn kernel whilst out at Jungle School.
Due to Happi's excellent forest skills, he has recently undergone a medical check so he can be moved to a forested pre-release island soon with his friends Berani and Annie. This is so exciting! It does mean Happi has had to be in a quarantine enclosure for the past couple of months while the various medical tests have been done. The orangutan keepers have been sure to give Happi extra enrichment to keep him busy. Happi loves all the various enrichment that is given including banana stem with sunflower seeds and leaves drizzled with honey. Happi's favourite foods from the keepers are bananas and dragon fruit and he doesn't like spinach.
Happi also likes to chill out in the hammock and watch the world go by. We wonder if he's thinking about being back in the forest… which is hopefully where he will be soon! Thanks to all of Happi's adopters for helping him on his journey to freedom.