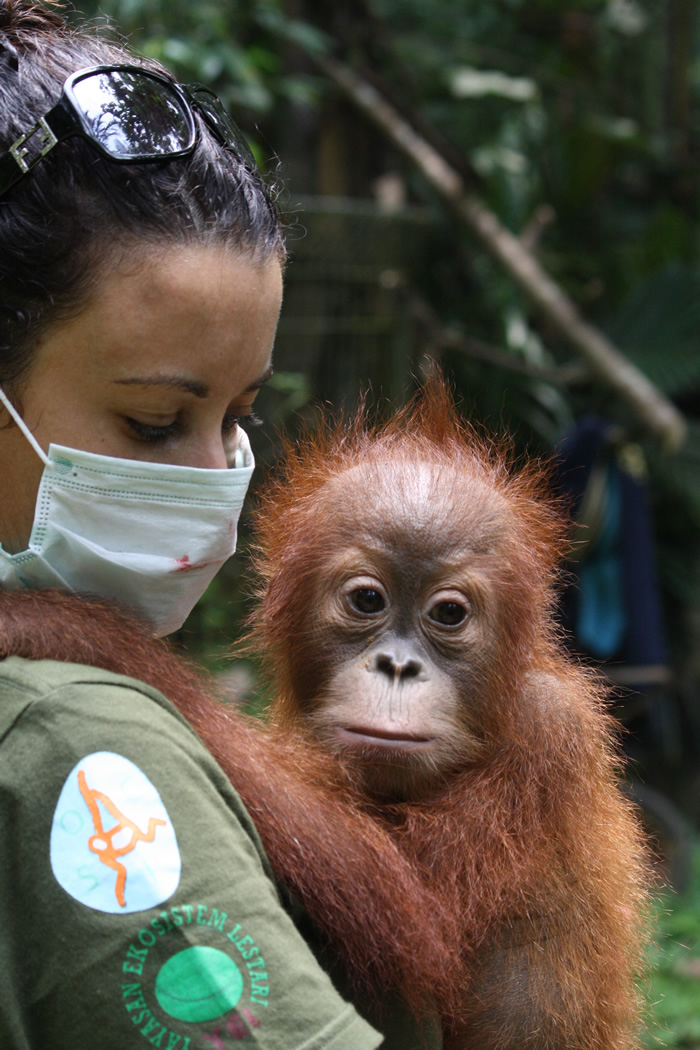 The Batu Mbelin Care Centre is located near Medan in North Sumatra and opened in 2002. It is run by the Sumatran Orangutan Conservation Programme (SOCP). SOCP is a collaborative programme involving numerous organisations. Batu Mbelin is the only quarantine and care centre for the Sumatran orangutan. It is a multifaceted programme engaged in all aspects of Sumatran orangutan conservation including:
Confiscation, quarantine and reintroduction of illegal pet orangutans
Surveys and monitoring of remaining wild populations
Research on conservation and behavioral ecology of wild orangutans
Habitat conservation; and e) Education and awareness.
Illegally held orangutans that are confiscated in Sumatra are taken to the Batu Mbelin Care Centre. Many have been kept as pets or have been injured by palm oil plantation workers. Orangutans are given a full medical check upon arrival and treated for any illnesses and parasites. They undergo a quarantine period before being introduced to other compatible orangutans. Many confiscated orangutans are very young and require regular milk feeds. Young orangutans have full time carers during the day and night and are also given tree climbing lessons in the grounds.
When orangutans are deemed suitable for release they are either sent to the Bukit Tigapuluh release site in the province of Jambi or to the Jantho Reintroduction centre in the province of Aceh. As of mid-2015, over 300 orangutans had been received at the Batu Mbelin Care Centre, with 162 orangutans transferred to Jambi and 66 transferred to Jantho for release. Over 200 Sumatran orangutans from Batu Mbelin have been released into the wild since the first release in 2003.
It costs approximately $300,000 AUD per annum to run the Batu Mbelin Quarantine Centre. Costs include staff salaries, orangutan confiscation costs, transportation costs, orangutan food, orangutan medical costs, food for staff and maintenance work.
Bukit Tigapuluh orangutan release site, Jambi, Sumatra
The Bukit Tigapuluh (BTP) ecosystem, located in the provinces of Jambi and Riau in Sumatra, is one of only two reintroduction sites in the world for the Critically Endangered Sumatran orangutan. With approximately only 12,000 left in the wild and hundreds being killed every year, it is imperative that viable released populations are built up outside of the troubled Aceh province.
The BTP ecosystem encompasses the largest remaining lowland forest block in Sumatra. The core area of the Bukit Tigapuluh forest block (144,000 ha) was declared as a national park in 1995. A survey in 2000 found that BTP was highly suitable habitat for the Sumatran orangutan. This amazing ecosystem is home to thousands of species including the reintroduced population of Sumatran orangutans as well as the Sumatran tiger and elephant- all critically endangered species.
Since 2002, more than 165 Sumatran orangutans have been transferred to and released into the BTP ecosystem. Orangutans entering the release programme have usually been orphaned and kept as pets, often in horrendous conditions. They must undergo extensive training including forest school so they can learn how to survive in their new jungle home before they are released. They must be able to recognise and eat a range of fruits, leaves and other important food sources such as termites and bark, make sleeping nests in the canopy at night and not come to the ground before they are considered suitable for release.
Extensive monitoring of orangutans occurs during and after the release process. Orangutans now have a small transponder inserted between their shoulder blades so they can be tracked using telemetry equipment well after their release to check on their progress. This has been a huge development in allowing longer term monitoring and assessment of released orangutans.
The recent estimated survival rate of released orangutans in BTP is approximately 70% which is excellent. Five orangutan infants have been born wild at the BTP release site after their mothers have been released, an exciting outcome. The release area is monitored by Wildlife Protection Units and many local people are employed by this programme.