International Animal Rescue (IAR) signed an Memorandum of Understanding in August 2009 with the Forestry Department in West Kalimantan, Indonesian Borneo, agreeing on plans for the rescue, rehabilitation and relocation of orangutans that have lost their forest habitat to make way for oil palm plantations. The agreement allows for the purchase of land and the creation of facilities where the rescued orangutans can be rehabilitated before being released back into protected areas of forest.
IAR Indonesia became involved with the orangutan cause in West Kalimantan in 2009. There was only a sub-standard, temporary orangutan rescue centre in Ketapang, West Kalimantan at that stage. IAR took over this centre in 2009 and with financial assistance from TOP built demountable cages to house the rescued orangutans. By early 2010, the conditions had greatly improved at the centre and professional veterinary care was available. Veterinary Director Karmele Llano Sanchez and her team had started to treat the injuries and ailments of the existing orangutans and had brought in a number of new rescued orangutans. A unit of four new enclosures had been designed, built and erected and some of the larger orangutans were enjoying a taste of freedom as they swung vigorously in the hammocks and tyres and played with other orangutans, perhaps for the first time in their lives. A nutritious diet with plenty of varied fruits and nuts had begun to improve their health and the environmental enrichment introduced into the cages on a daily basis had greatly increased their mental and physical stimulation.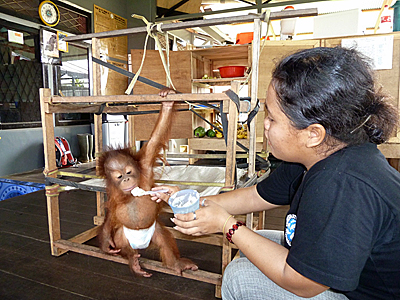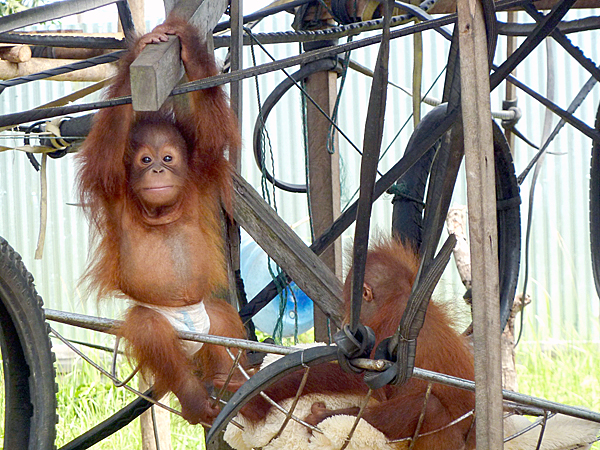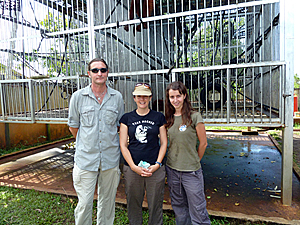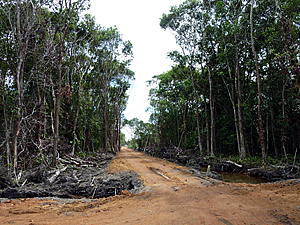 Orangutan populations are estimated to have declined by well over 50% over the last 60 years and the threat of imminent extinction in the wild is very real. The massive increase in oil palm plantations has caused the most destruction to orangutan habitat however other factors including unsustainable timber extraction, development of tree plantations for paper and pulp, small-scale community agriculture, mining and direct orangutan killings have also contributed to the decline in orangutan numbers.
Most orangutans are located outside of protected areas, leaving them even more vulnerable. If deforestation in Borneo continues to replace primary and degraded forests with oil palm plantations, then the incidents of human-orangutan conflict will increase and it is unlikely that orangutans will survive in the long-term.
25ha area of land in the Ketapang district was purchased in 2010 by IAR Indonesia, with financial assistance from TOP. A rescue and rehabilitation facility is being constructed on this site that will act as a transit centre for wild orangutans rescued from deforestation and also as a rehabilitation facility for captive orangutans rescued in the area. TOP is assisting with the construction of this rehabilitation facility including enclosures 1ha in size built around forested areas so young orangutans can practice their climbing skills. IAR Indonesia plans to secure land further north in the province of West Kalimantan so orangutans can be released in the future.
The new facility contains a fully equipped clinic for orangutans, a quarantine facility for infants and adults, socialization cages for adult orangutans, open enclosures for the rehabilitation of orangutans, an office and an education centre. 90% of the purchased land is forested. This forest provides an excellent way to provide a natural environment for the rehabilitation of the orangutans, allowing them to learn vital survival skills prior to being released back into the wild. 1 ha forested enclosures have been constructed to house orangutans being rehabilitated for release. Such enclosures also provide an easy way to monitor the development of an orangutan in a semi-natural environment.
One of the biggest problems faced when reintroducing animals to the wild that have spent considerable time in captivity is their inability to be able to recognise available food sources, especially during seasonal variations. Wild orangutans eat hundreds of different plant species and they change their diet according to the season and food availability to survive. Orangutans predominantly feed on high calorie fruits during the fruiting season but must rely on eating other food sources such as leaves and cambium when fruit is scarce.
The aim is now to purchase further forested land that borders the centre so larger semi-natural enclosures can be constructed. These forested enclosures will be enriched with known orangutan food trees so the orangutans undergoing release training will gain some knowledge of the wild food sources that are available to eat in the forest. If this extra land is purchased, it will also allow an orangutan food tree plantation to be established. This will supply food for the captive orangutans, thus reducing the operational cost for food and it will create a sustainable financial source for the centre.
TOP's financial assistance will cover the costs of constructing further 1ha enclosures and assist with the running costs at the Ketapang rescue and rehabilitation facility.
Orangutan Rescue Team
The Orangutan Rescue Team will operate in the Kayong Ketapang District and North District and Province of West Kalimantan.
Functions and Duties include :
Perform rescue and rehabilitation of orangutans in Ketapang and the District of North Kayong and the translocation of orangutans in the province of West Kalimantan.
Collecting data on crimes against violations of the Act, especially related to the hunting and trade in orangutans.
Provide medical assistance when performing rescues and translocations.
Relocate oranugtans from isolated and fragmented areas of forest where populations are not viable and orangutans are in risk of being killed, hunted or captured, to protected forested areas or to the Rescue Centre in West Kalimantan if needed.
Assist the authorities in the implementation of law enforcement programs carrying out confiscations of orangutans in captivity.
Alleviate the conflict between humans and orangutans